In February, I bought myself and my partner AirPods Pros, Apple's flagship wireless earbuds. At £250 a pop, they're a pricy investment, but are they worth the cost?
The choice to buy these was partly because I'd seen a lot of people using the second-generation AirPods at work, paired with the fact I'd gotten a bonus for referring a friend to work for the company, I figured a techno treat was in order.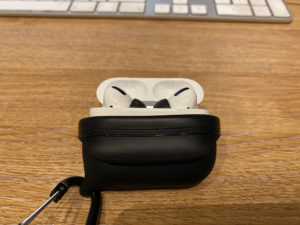 Out of the box
The out of the box experience is just as you would expect for an Apple product. Upon removing the AirPods from the box, pairing is as simple as opening the lid next to your iPhone and clicking pair.
Once paired, the headphones are synced to iCloud and are available on all Apple devices linked to your iCloud account. This makes it a breeze to switch from my iPhone to my MacBook Pro at work.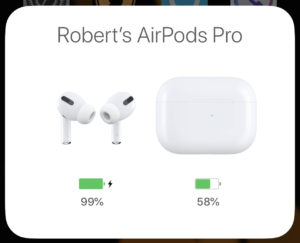 Sound quality
When it comes to sound quality, the AirPods Pro performs better than what I was expecting. Having used the EarPods that come in the box of my iPhones and being less than impressed, I was a little wary of handing over such a large amount of cash, but Apple does have a few demo pairs in store for people to try. (sanitised between customers) The sound is clean with crisp highs, punchy lows with very little muddiness. There is no interference from the Bluetooth connection which I've had with other Bluetooth headphone solutions.
Noise cancellation
The active noise cancellation (ANC) feature of the AirPods Pros is one of the best I've heard in an earbud. Whilst you generally might find over-ear headphones offer very good noise cancellation, Apple has put a lot of work into making the AirPods Pro's ANC function as well as possible. This is, in part, thanks to the two microphones on the AirPods which monitor both outside sounds, as well as the sound in your ear, and adjusts the output to compensate accordingly.
Another feature that is very useful is Transparency mode, which essentially puts the ANC in reverse. I personally use this when I'm using the AirPods Pro during calls as it doesn't make you feel like your voice is stuck inside your head, which is a complaint I often have with in-ear earbuds.
Battery life
Battery life is better than I expected, I get about 4 hours when using them to join a work conference call, they'll then take about an hour to charge after being returned to the charging case. The case will charge them about 4 times before needing to be charged itself. Charging the case can be done either with the AirPods in it or not and can be charged using a standard Apple lightning USB cable, or a Qi wireless charging pad, which is the same type used for charging most mobile phones.
Issues
Now, I'd love to say these things are perfect, but I've had a couple of issues. Some are not exactly a fault with the AirPods themselves, such as the quality dramatically decreases when the microphone input is selected. This is a limitation in the Bluetooth specification rather than an oversight on Apple's part. However, I've also had a couple of issues with the AirPods themselves:
The first one started about 4 months in. I'd be talking on a call and I'd get an intense crackling in the left bud. This only happened when the ANC was either on or in transparency mode. I tried going through all the cleaning steps, but in the end, I had no option but to reach out to Apple support and they were quick to get a replacement shipped to me. Annoyingly, the right bud started doing similar a couple of weeks later. I'm currently in the process of getting that one also replaced. The support service is excellent in that they will immediately ship out a replacement, holding £89 (the cost of a new AirPod) until the original is returned, then the money is released back into your account.
The second is more of an issue with my ears. After wearing the AirPods Pro for a few days, especially during night shifts working from home where I use them to join a conference call, I noticed my ears started to itch. After taking them out, I noticed my ears would be very watery. Thinking this was just a sweating issue, and that my body would eventually get used to them, after a few weeks, the itching had gotten worse, and I realised the watery substance was actually serous fluid, and that I was having a mild allergic reaction to the silicone tips. This was odd as I've had in-ear earphones before with silicone tips and have not had a reaction, or at least anything as bad as this. I initially bought some 3rd party silicone tips which improved things, before switching to memory foam ones which, so far, appear to suit my ears much better, though still not perfect. If anyone else has had similar issues and found a perfect solution, please let me know.
Conclusion
In conclusion, would I recommend the AirPods Pro? Yes, however I would highly recommend purchasing AppleCare for them as this should protect you after the 1 year initial warranty period ends, as well as being able to replace any damaged pods at a much reduced cost.